Video
7 reasons not to buy the Kindle Fire.
I bought a Tablet yes­ter­day. I did NOT buy an Apple iPad, like most of my friends would have expected, or a Barnes and Noble Nook Color, which seems to have great fea­tures, or even a Kin­dle Fire, which I have been seri­ously con­sid­er­ing for the past two weeks.
My new toy is a Lenovo Idea­pad A1.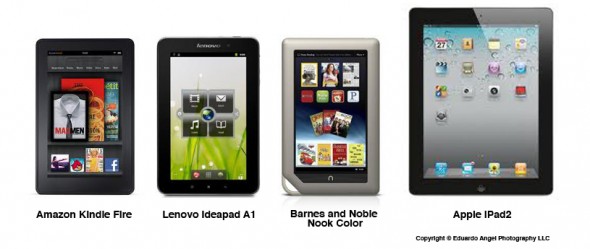 I have been against the "tablet" idea since the iPad was announced. I don't want to carry more stuff, more weight, more cables. I don't want to worry about sync­ing all my devices. If I want to travel light, I always have my HTC Incred­i­ble with me (when the bat­tery doesn't die). If I need to do real work, I take my loyal Mac­Book Pro. I couldn't think of any rea­son to change that peace­ful bal­ance. That was until I had to fly over 230,000 miles this year alone, tried unsuc­cess­fully to work on a red-eye flight, took my lap­top to end­less meet­ings where a notepad could have been enough, had to return count­less unread books to the library because I didn't have time for them, and got really tired of burn­ing my legs with a Mac­Book Pro while try­ing to read in bed.
A tablet sud­denly seemed like a good com­pro­mise; fast enough for most daily tasks, small, ultra light, and at last at an afford­able price. My bud­get was $250. Both the Idea­pad A1 and the Kin­dle Fire cost $199, and the Nook goes for $249. The iPad 2 is com­pletely out of my price range start­ing at $500, but I included it on the com­par­i­son as a reference.
Inter­est­ing fact: The Kin­dle Fire has the least amount of built-in stor­age (8GB) with­out any pos­si­bil­ity for expan­sion. Ama­zon allegedly loses money on the hard­ware, and lim­its the stor­age because they heav­ily rely on sell­ing their dig­i­tal con­tent. But that should be my deci­sion, not theirs. The Nook also comes with 8GB but you can add more via Micro SD cards. The Idea­pad A1 dou­bles that to 16GB, and has an SD card slot for expan­sion. The iPad 2 has no SD, but you can pay more for a 32GB or 64GB model. You can always pay more with Apple.
Here are the side-by-side specs: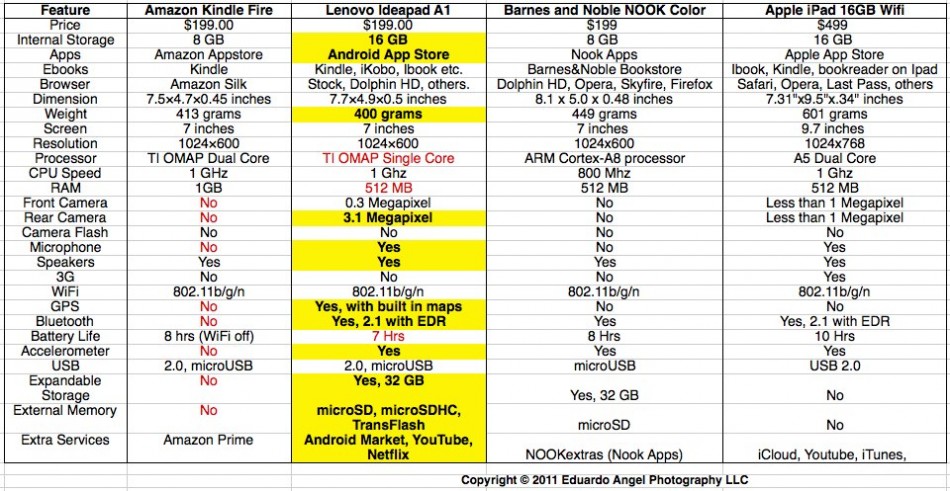 From the hard­ware per­spec­tive, all three devices carry almost the same con­fig­u­ra­tions, includ­ing a Texas Instru­ments OMAP 1GHz Proces­sor. All sup­port 802.11 WiFi stan­dards. Both Idea­pad A1 and Nook Color run Android 2.3 (Gin­ger­bread), and Kin­dle Fire runs on a highly cus­tomized Android ver­sion. All share the same 7-inch touch screen, with 1024 x 600 res­o­lu­tion, though arguably Nook and Kin­dle Fire offer slightly supe­rior screens for read­ing and both use In Place Switch­ing tech­nol­ogy to sup­port wide view­ing angle.
Idea­pad
A1

 Pros:

•Dual cam­eras (3.1 megapix­els for the rear cam­era)
•Built in GPS and Google maps
•The only one with Blue­tooth
•Built in 16GB stor­age, eas­ily expand­able up to an addi­tional 16GB for $20, or 32GB for around $40 via Micro SD Cards. Accord­ing to Ama­zon  8GB is enough to hold 80 apps, plus 10 movies or 800 songs or 6,000 books.
•The light­est of all
•Runs Android 2.3 (Gin­ger­bread), with many more options than the Ama­zon App Store. No need to hack it or root it.
•Mini USB port for fast dig­i­tal video, audio and data trans­fer. It is also the same port as my phone, one less cable to worry about.
Idea­pad
A1

 Cons:

•Lack of 3G sup­port.
•512 MB of RAM vs. 1 GB on the Kin­dle Fire.
•Sin­gle proces­sor while the oth­ers have a dual core.
What do I plan to achieve with my new toy?
•Read more eBooks with­out burn­ing my legs while try­ing to fall asleep.
•Update this blog from any cof­fee shop, read while com­mut­ing, work on a plane.
•Watch more movies, and use Google Music.
•Use sev­eral film­mak­ing tools includ­ing a Director's Viewfinder, and Slate.
•Per­haps use it as an Exter­nal Mon­i­tor while shoot­ing video (more on this on an upcom­ing post).
•Read my RSS Feed with my morn­ing cof­fee with­out feel­ing that I'm already  "in the office."
•Avoid car­ry­ing my lap­top to meet­ings where I only need to take notes, while hav­ing access to all my Google Docs.
•Check my email (I have 4), and cal­en­dars (I have 5) with­out hav­ing to worry about sync­ing issues.
•Use it as a GPS on road trips (I have been using my phone with great success).
Con­clu­sion: For $200 I get pretty much the same, or bet­ter, specs than the Kin­dle Fire and Nook Color, but I have access to the full Android Mar­ket­place AND the Kin­dle Reader app. If I com­bine this with Ama­zon Prime ($79/year or $39/year if you are a stu­dent) I believe I can get the best of all worlds.
Will the Idea­pad A1 improve my life? Will it become a toy or a tool? We will see.
UPDATE on Tues­day, Decem­ber 13, at 07:13: After some crit­i­cism (like mine) and neg­a­tive user reviews, Ama­zon has promised that an over-the-air update will be sent to Kin­dle Fire own­ers within the next two weeks. Read more here about the upcom­ing firmware update.