Video
Hands On Review: The Lenovo IdeaPad Tablet.
 
Exactly a month ago I wrote about the "7 rea­sons not to buy the Kin­dle Fire." Best Buy took all this time to deliver my Thanks­giv­ing pur­chase, which became a Christ­mas present to myself.
I am one of the lucky ones since Best Buy is scram­bling to ful­fill many online orders. About two weeks ago I got an email from them basi­cally say­ing that it was OK to change my mind and get some­thing else. I didn't. After a few days play­ing with the Lenovo Idea­Pad A1, I am ready to go over the main fea­tures (from the manufacturer's web­site) and share my impressions:

• Android 2.3 oper­at­ing sys­tem.
My tablet is run­ning Android 2.3.4, my HTC Incred­i­ble (first gen­er­a­tion) is run­ning Android 2.3. For some rea­son, sev­eral appli­ca­tions from the Android Mar­ket will install on my phone, but NOT on the tablet. It says that my device is incom­pat­i­ble.

• ARM Cor­tex A8 proces­sor that fea­tures a 1.0GHz proces­sor speed for stay­ing con­nected and pro­duc­tive on the go.
The tablet is rel­a­tively quick and respon­sive, but is has crashed four times in about 48 hours of use.

• Built-in 802.11b/g/n wire­less LAN. Con­nect to the Inter­net with­out wires.
Yeah, last time I checked that's the def­i­n­i­tion of wire­less. Some­one at the mar­ket­ing depart­ing was hav­ing a slow day.
• 512MB LPDDR mem­ory for mul­ti­task­ing power.
This is one of the dis­ad­van­tages vs. the Kin­dle Fire. So far it has been work­ing fine for me, but I won­der if that's the cause of the crashes.

• Gor­geous 7″ (1024x600) widescreen multi touch dis­play, with a 16:9 aspect ratio and 1024 x 600 res­o­lu­tion to show­case movies and games in stun­ning clar­ity.
The size is per­fect, and the dis­play is per­fectly fine to read. I am not con­vinced about the "stun­ning clar­ity" for movies, but we need to keep in mind that this is a $250 device.
•16GB on-board mem­ory offers spa­cious stor­age.
This is a HUGE advan­tage over the Kin­dle Fire, which has only 8GB inter­nal stor­age and no option for exter­nal mem­ory cards.

• Built-in 0.3MP front-facing web­cam plus a rear 3.0MP mounted web­cam so you can eas­ily video chat with fam­ily and friends.
The front camera's qual­ity sucks. The back camera's qual­ity sucks even more. Check these images from my (2 years old) HTC Incred­i­ble vs. the A1.
When 27% of the pho­tos and videos are being cap­tured on Smart­phones, this is kind of an issue, don't you think?
• MicroSD card slot lets you store or trans­fer media using com­pat­i­ble MicroSD cards (not included).
The Micro SD card slot is almost impos­si­ble to access. You actu­ally need an X-Acto knife to open it, insert the card, and then push it. Ter­ri­ble design.
• Mini USB port for fast dig­i­tal video, audio and data trans­fer.
This is really nice. It also shares the same exact cable as my HTC, so I only need one car charger and one cable on the road. Less is more.

• Blue­tooth capa­bil­ity. Eas­ily link with other Bluetooth-enabled devices, such as a mobile phone or MP3 player.
I have not tested this fea­ture, but can see the ben­e­fit of a portable Blue­tooth key­board while on the road.

• Weighs only 14.1 oz. and mea­sures just 7.7″ x 4.9″ x 0.5″ thin.
I LOVE the size and weight. This is the main rea­son why I don't like the iPad (besides the price). 7″ make sense for a tablet; go big­ger than that and you are bet­ter off with a net­book or Mac Book Air.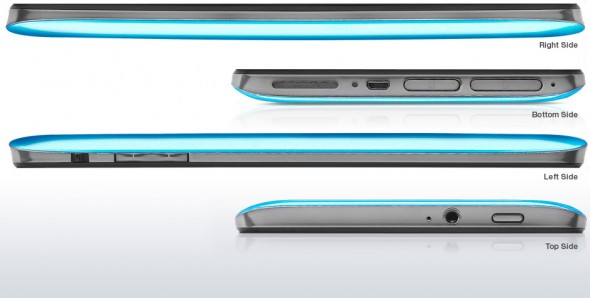 • Pre­loaded apps and more via the Lenovo App Shop and Android Mar­ket. Include Android Mar­ket, YouTube and more.
Ok.…just when things were get­ting better…The Lenovo Shop app is an Android Mar­ket wanna be that is too crowded and hard to nav­i­gate. Besides, why would any­one use this instead of the Android Mar­ket? The other pre­loaded apps are ebuddy (for chat) and a cou­ple more to watch movie pre­views. All are ter­ri­ble. The great thing is that unlike my HTC Incred­i­ble, you can remove the bloat­ware (except Lenovo App Shop) directly from the set­tings menu (settings/applications/manage applications/uninstall).

• Unique offline GPS nav­i­ga­tion tech­nol­ogy gives you a direct satel­lite link—no more wor­ries about net­work avail­abil­ity.
Accord­ing to PCMag.com, "The most intrigu­ing thing about the A1 is its offline GPS." I am very intrigued as well. The app feels like Google Maps in 1986, and it doesn't give accu­rate loca­tions. Appar­ently you can load one map at a time (it is not clear whether the USA, or New York State, or even New York City count as one map.)
• Full Flash sup­port and instant synch­ing.
As expected, all my Google apps worked magically.
• Trendy design avail­able in black, white, pink or blue.
I am not trendy so I got it in black.
There are a few issues I have encoun­tered that Lenovo and Best Buy "for­got" to mention:
• The Wi-Fi doesn't always con­nect auto­mat­i­cally when start­ing the tablet.
• There is no reboot option.
• There is no instruc­tion man­ual (yes, I read them and so should you). Included are only a use­less quick guide and a hid­den "User­Help" app, which is also a worth­less PDF that doesn't pro­vide any infor­ma­tion about the GPS, for­mat­ting a cor­rupted MicroSD Card (yes, this hap­pened two hours after get­ting the tablet) or other impor­tant fea­tures. Here's a bril­liant exam­ple of the User­Help app:
 4–10 Backup: This option enables you to back up and restore some data.
That's it. What else do you need to know, right?
My biggest issue so far has been the main nav­i­ga­tion menu. It only appears if you touch any of the three but­tons, but you can't touch them if you can't see them. It is also very easy to hit the wrong menu (since you can't see it) and exit the browser or quit an app. There should be an option to keep these but­tons lit all the time. This is a major com­plaint on sev­eral Lenovo forums and I hope it will be fixed soon via a Firmware update.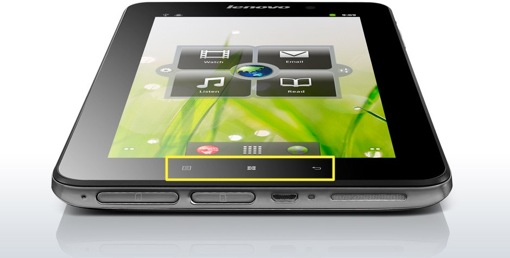 The Key­board needs some tweak­ing, but it is much more com­fort­able and respon­sive than the iPad, which dri­ves me absolutely insane.
On the pos­i­tive side, the bat­tery life is great. I spent 24 hours check­ing emails, read­ing news, watch­ing movies, and writ­ing this post and still have some juice left.
Con­clu­sions: I paid $199 for this toy, but now I see it avail­able for $249 from Lenovo's web­site (you could have saved $50 by read­ing this blog!). The tablet is "unavail­able" at Best Buy's stores and "sold out" on their website.

Do I feel that I got my money's worth? Yes.
Will I accom­plish my objec­tives? I believe I will, espe­cially since I have found sev­eral fan­tas­tic apps (all free) that will me much more pro­duc­tive in the upcom­ing months. I'll share the com­plete list here very soon. Stay tuned.