Video
Google Nexus 7 Tablet is out.
 
UPDATE: 0723 Awe­some mar­ket­ing effort. Very well done.

 
Google's Nexus 7 Android Tablet is here. The tablet is built by ASUS, which really makes me won­der what Google plans to do with Motorola Mobility.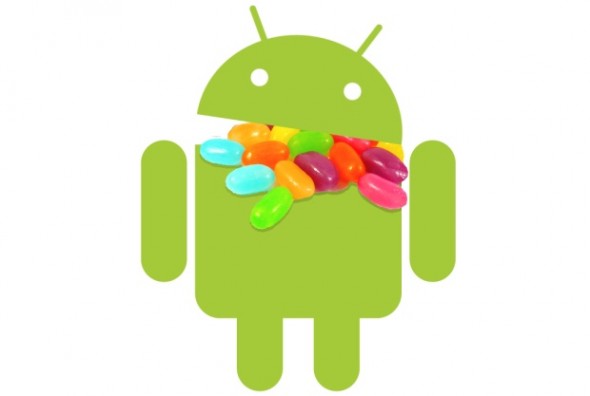 The Nexus comes fully packed with goodies:
• It runs the lat­est Android OS 4.1 Jelly Bean, which is opti­mized for smaller tablet screens, mag­a­zines and movies.
• 1280x800 IPS dis­play coated in "scratch-resistant glass."
• Front-facing, 1.2-megapixel cam­era.
• 198.5 x 120 x 10.45mm case
• Two fla­vors 8GB ($199) or 16GB ($249) of stor­age, plus 1GB of RAM, and NVIDIA's quad-core Tegra 3 SoC proces­sor. Don't worry about the Russian-like specs, it sim­ply means it is fast, really fast.
• GPS and Blue­tooth and 802.11b/g/n Wi-Fi, and Micro USB, plus NFC.
• The 7 stands for the tablet's size, 7 inches, which as I have said many times, it is the per­fect size for a truly portable device.
• Accelerom­e­ter, mag­ne­tome­ter, and a gyroscope.
The Nexus 7 seems, at least on paper, the ulti­mate Kin­dle Fire killer if it ever ships! Lenovo, with its incred­i­bly ter­ri­ble cus­tomer ser­vice and tech sup­port doesn't need a com­peti­tor to kill itself. I believe the iPad will remain the global tablet leader through the next 3–5 years, but it will start los­ing some sig­nif­i­cant mar­ket share. Apple's biggest advan­tage has been the App Store which now has more than 650,000 down­load­able appli­ca­tions that include games, news and travel tools for the iPhone and iPad. Google has been catch­ing up and Google Play (pre­vi­ously known as Android Mar­ket) cur­rently offers more than 500,000 apps.
We just updated our wildly pop­u­lar chart to include Google's brand new sys­tem. Here are the side-by-side specs (click on it twice to see it full-res):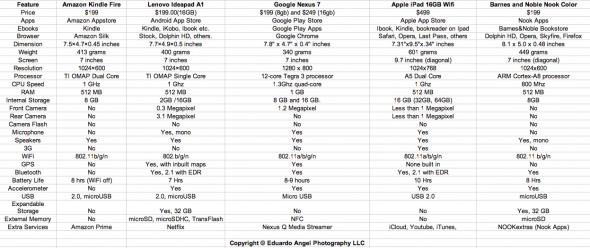 UPDATE: July 9, Is Google sell­ing the Nexus 7 at a loss?