News
Putting us on the map.
 
We are proud to announce that Eduardo Angel LLC is now on a dig­i­tal map called, Made in New York, a great resource devel­oped by Mayor Michael Bloomberg for tech com­pa­nies, investors, devel­op­ers and design­ers. Fea­tur­ing more than 500 local com­pa­nies across the city's five bor­oughs, includ­ing 325 that are presently hir­ing, the projects's goal is to inter­ac­tively show what is hap­pen­ing in the tech­nol­ogy indus­try through­out the five boroughs.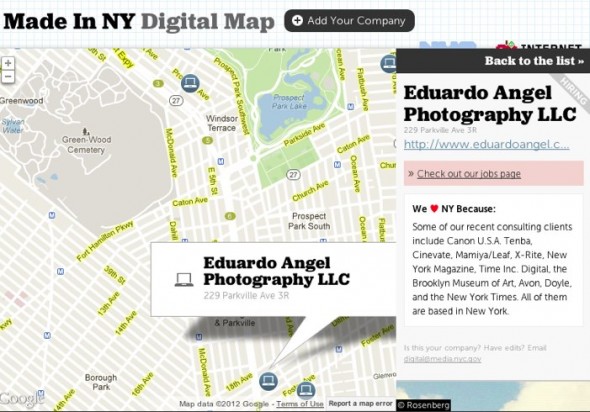 "We expect this map to be another tool that helps pro­pel our tech indus­try for­ward," Bloomberg said . "The growth of the tech indus­try in New York City has been a crit­i­cal part of weath­er­ing the nation's eco­nomic down­turn, far bet­ter than the rest of the coun­try." Since the map plots com­pa­nies by loca­tion, job seek­ers can explore their desired neigh­bor­hoods, mak­ing this a fan­tas­tic resource for any­one who lives or is mov­ing to New York City to find jobs in the tech­nol­ogy sec­tor. The map can be also be sorted by dig­i­tal com­pa­nies, investors, and co-working and incu­ba­tor spaces.
"Cre­ative peo­ple want to be around other peo­ple and cre­ativ­ity is dri­ving the tech indus­try," Bloomberg said. "We are mak­ing con­cen­trated efforts to sup­port entre­pre­neurs and startups."
Addi­tion­ally, Mayor Bloomberg, the Depart­ment of Small Busi­ness Ser­vices and NYC Dig­i­tal, along With Google, Mash­able and Tum­blr have intro­duced a New Tech­nol­ogy Toolkit to Help Small Local Busi­nesses Launch and Grow Online. We believe that these new resources are increas­ing the vis­i­bil­ity, as well as com­pet­i­tive­ness for new com­pa­nies to stay on top.  We wel­come new challenges.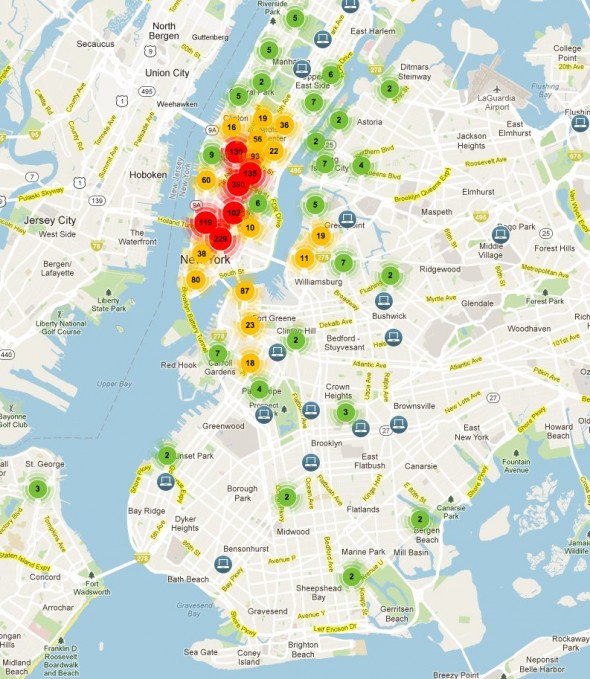 Is this map a valu­able tool for you? What else can New York do to adver­tise its ris­ing tech indus­try?  As always, share your thoughts with us below.