Schindler's List Cut by Cut: Part 3.
 
After tak­ing a deep look (check the first and sec­ond part of this post) into a famous and very impor­tant sequence from the film Schindler's List, we begin to under­stand not only the rela­tion­ship between Oskar Schindler (Liam Nee­son) and Itzhak Stern (Ben Kings­ley), but also the cin­ema inge­nious­ness of Steven Spiel­berg (direc­tor), Janusz Kaminiski (direc­tor of pho­tog­ra­phy) and Michael Kahn (editor).
Here's a poster we cre­ated that sums up all the cuts in the sequence alto­gether.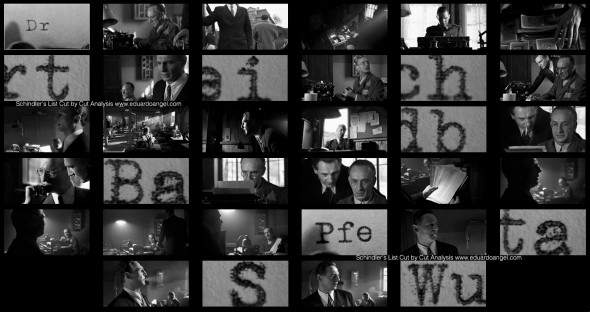 And here's the com­plete sequence.
 

For those of you missed our Schindler's List cut by cut analy­sis, here are Part 1 and Part 2.
Are there any other sequences that you would like us to review or break down cut by cut?  Let us know by giv­ing your thoughts and feed­back in the dia­log box below and we might just make it a future post!
This entry was posted on Thursday, February 7th, 2013 at 08:00. It is filed under Analysis, Cinematography, Digital Cinema, Editing, Photography, Technology, Visuals and tagged with cinema, film and video, filmmaking, filmmaking techniques, movies, photography, poster, Video Editing, visuals. You can follow any responses to this entry through the RSS 2.0 feed.