Video
10 (new) Cool Gadgets for Photographers and Filmmakers. Part 2
 
6• Con­ver­gent Design Odyssey 7.
Two super inter­est­ing monitor/recorders are the Odyssey7 and Odyssey7Q by Con­ver­gent Design. For $1295 and up you get a 7.7" 1280 x 800 OLED exter­nal mon­i­tor that also dou­bles as an exter­nal recorder capa­ble of receiv­ing 4K RAW data as well as other com­pressed and uncom­pressed for­mats onto two 2.5" SSDs.
Here's the twist; out-of-the-box, these two prod­ucts are mon­i­tors only, with all the usual set­tings (wave­form, his­togram, false color, vec­torscope, zebras, and focus assist) but with­out any record­ing or play­back capa­bil­i­ties. Record­ing options must be pur­chased or rented (bril­liant!) sep­a­rately from Con­ver­gent Design's website.
Another clever fea­ture is that the screen can be split into four quad­rants, so users can mon­i­tor the image while also simul­ta­ne­ously hav­ing access to wave­form, vec­torscope, his­togram, or focus assist.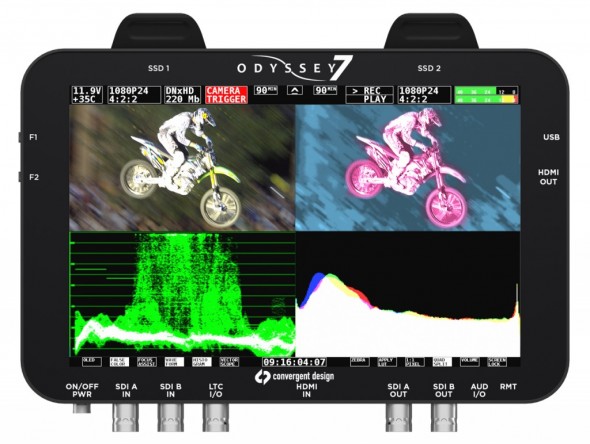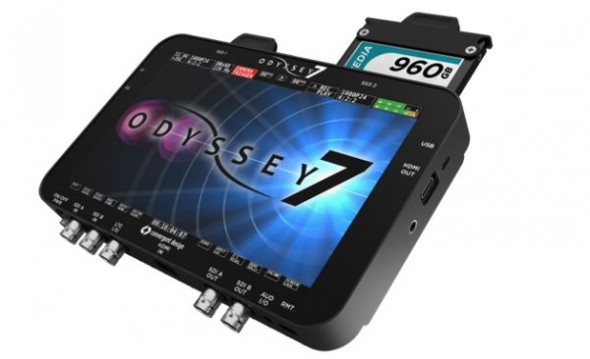 7 and 8• Tas­cam DR-60D and Sam­son Zoom H6
In the realm of sound we saw two impor­tant announce­ments with Tascam's DR-60D and Samson's Zoom H6. Accord­ing to Tas­cam, the DR-60D was specif­i­cally designed for DSLR film­mak­ers. It comes with the now expected fea­tures: 2 XLR ports, 4-channel record­ing, 48V phan­tom power, and SD/SDHC cards compatible—all for $350. The sam­ple we tested was miss­ing the option to record MP3 files. I'd like to see if this will be added via a firmware update at a later time. The most inter­est­ing fea­ture is the way the DR-60D can be attached at the bot­tom of the cam­era, just like a bat­tery grip, with­out rigs or "cages." There are also red LED lights alert­ing users when the input lev­els are too high, which is great for a sin­gle oper­a­tor sit­u­a­tion. This is nice. Keep in mind that the 60D does NOT have inter­nal mics, so record­ing a quick inter­view (at a trade show, for exam­ple) or cap­tur­ing ambi­ent sound requires addi­tional gear. This is mildly annoying.
Tas­cam DR-60D from B&H Photo Video on Vimeo.
The interesting-looking Zoom H6 comes with four XLR/TRS inputs, and records and mixes up to six chan­nels using all kinds of inter­change­able mics. The price is unknown as of this writ­ing. Many peo­ple have com­plained about the Zoom H4n menu. We have been using one for a long time and feel very com­fort­able using it. That being said, the H6 seems much eas­ier, and the Tas­cam 60D's UI is defin­i­tively more intuitive.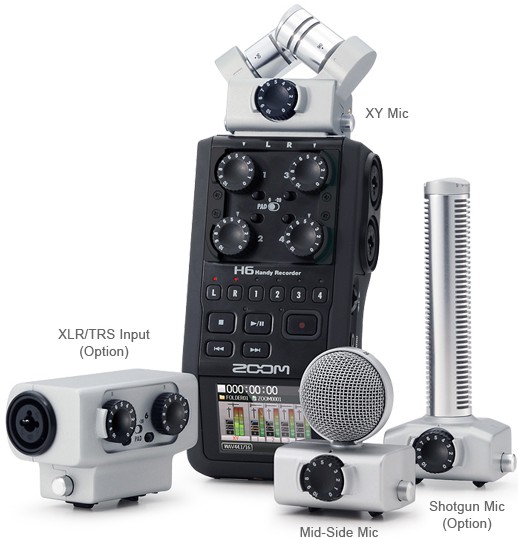 9• G-Tech Evo­lu­tion Series
The media stor­age announce­ments last week at NAB were pretty bor­ing, with one sin­gle excep­tion: G-Tech's Evo­lu­tion Series. There are three fla­vors: G-DOCK ev, G-DRIVE ev, and G-DRIVE ev PLUS. Here's my review.

10• Adobe
The soft­ware giant is on a roll, with Light­room 5 offi­cially avail­able as a pub­lic beta, and a new Pre­miere Pro to be announced in a few days this week at the Adobe MAX Con­fer­ence. Here's a link to the Keynote and here's a link to the best deal for Cre­ative Cloud I can find.
Are you excited with these new gad­gets? Did I miss any­thing? Please add your com­ments below.