How to fix our broken education system. Some thoughts.
 
For sev­eral weeks we've been seri­ously talk­ing about our edu­ca­tion sys­tem, and we'd like to share some of our ideas on the subject.
The cur­rent edu­ca­tion sys­tem is bro­ken, out­dated, and, dare I say it—dangerous. How did we arrive at this point, and what can we do to rem­edy the sit­u­a­tion?
Let's start by answer­ing this ques­tion: why are things such a mess? I believe the sys­tem we have today is struc­turally the same exact sys­tem that our par­ents, and in some instances, even our grand­par­ents experienced.
The egal­i­tar­ian arrange­ment of the sys­tem is chiefly designed to mass pro­duce fac­tory work­ers. Uni­forms, bells, 2B pen­cils, stan­dard­ized tests and text­books, and strict sched­ules pre­pare kids to fol­low the same rules after graduation—memorize what's impor­tant, don't think deeply, obey the rules, don't ques­tion author­ity, work hard, and fol­low the clear and des­ig­nated path, in order to be rewarded with a raise, a pro­mo­tion, and, finally, a decent retirement.
You may be inclined to ask "What's wrong with this set up?" I believe that the edu­ca­tional model no longer takes into account the real­ity of post-educational life. How many stu­dents fin­ish­ing col­lege right now will have a job wait­ing for them? And, of the lucky ones land­ing a pay­ing job, how many have a clear and rel­a­tively safe career path until retire­ment? We are told a degree is a must. Why? Most of us will work for small busi­ness or as free­lancers from now on. Did you know that 15% of park­ing lot atten­dants have B.A. degrees?
I can remem­ber my father buy­ing IBM shares for a fairly con­sis­tent annual return. If today the price keeps going up, but the return is uncer­tain until the end of the year, would you buy IBM? I cer­tainly would not. Now replace IBM shares for "col­lege edu­ca­tion" and annual return for "jobs" and this is exactly the sit­u­a­tion we are fac­ing today. Only 49% of grad­u­ates from the classes of 2009 to 2011 had found a full-time job within a year of fin­ish­ing school, com­pared with 73% for stu­dents who grad­u­ated in the three years prior.
How can the prob­lem be solved? I don't know. But the solu­tion requires a new way of eval­u­at­ing stu­dent per­for­mance, and a new way of edu­cat­ing future edu­ca­tors. An improved sys­tem should also reduce the costs while increas­ing the avail­abil­ity of qual­ity learn­ing. Colom­bia, with a pop­u­la­tion of 44 mil­lion, has 120 archi­tec­ture schools. The UK, with 60 mil­lion peo­ple, has only 12 schools. Do we need to guess who will have a greater rate of suc­cess after fin­ish­ing school, be able to pay her stu­dent loans, and con­cen­trate her efforts on becom­ing a bet­ter pro­fes­sional (and not only to sur­vive)? Did you know that two-thirds of stu­dents from the class of 2010, the lat­est fig­ures avail­able, grad­u­ated with stu­dent loans, with an aver­age tab of $25,250.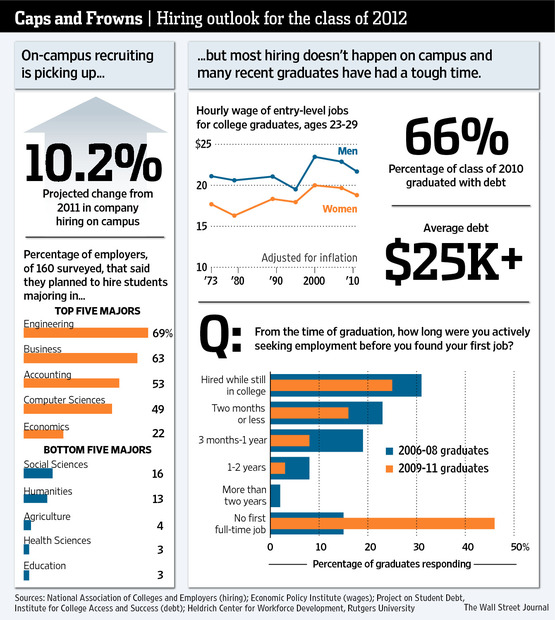 A friend told me recently that "we are still deal­ing with the 'Protes­tant Work Ethic' [work hard and you will suc­ceed indi­vid­u­ally] instead of imple­ment­ing a more 'Social Ethic' [we all do bet­ter work­ing as a group]." I could not agree more with this assessment.
Game strat­egy, social media, and video tuto­ri­als are incred­i­ble tools that are read­ily avail­able to cre­ate hands-on, project-based, inter­dis­ci­pli­nary courses. But these tools are often ignored, and when imple­mented they are forced into the tra­di­tional sys­tem. No won­der the results are far from ideal in most cases.
This beau­ti­ful video by Tobias Precht and Jonas Kim­mel­mann shows an intrigu­ing way to com­bine the cur­rent sys­tem with some of the cur­rent, and future, learn­ing tools. The video is 6 min­utes long, but absolutely worth the extra 270 seconds…
Dur­ing my archi­tec­tural pho­tog­ra­phy work­shops, I obvi­ously talk about aper­ture, lights, lenses and other photo-specific top­ics. But I also show what I con­sider the best parts of Julius Shulman's doc­u­men­tary "Visual Acoustics" (stream­ing it directly from Net­flix), I demo tools like Google Earth and sev­eral smart phone appli­ca­tions that I use on loca­tion, I talk about archi­tec­tural ren­der­ings, show stu­dents the most beau­ti­ful exam­ples of CGI ani­ma­tions, deliver my hand­outs as down­load­able PDFs from my web­site, and often share large images and doc­u­ments via Drop­box with them. I can't see why we could not teach his­tory or lit­er­a­ture in a sim­i­lar way. Prob­lems can never be fully under­stood in the con­text of a sin­gle aca­d­e­mic discipline.
I believe that flex­i­bil­ity, team­work, account­ing, time man­age­ment, project man­age­ment, lan­guages (espe­cially Span­ish and Chi­nese), are more impor­tant job-targeted skills to have now than ever.
As en edu­ca­tor, and proud uncle of two boys, I am espe­cially wor­ried with the amount of legal med­ica­tions admin­is­tered to kids. Are we really fac­ing an ADHD epi­demic nation­wide? Why should chil­dren pay the price for an out­dated sys­tem that is inca­pable of grab­bing the inter­est of peo­ple bom­barded with non-stop elec­tronic stim­uli? And not only the stu­dents are bored. Accord­ing to another research, only 44 per­cent of Amer­i­can teach­ers are sat­is­fied with their jobs. That's the low­est num­ber in two decades and an 18-point drop since 2008.
And the issue doesn't only con­cern kids. Just a lit­tle more than two years ago, the stan­dard atten­tion span of a YouTube video used to be three min­utes. Now most peo­ple will not fin­ish watch­ing some­thing that is more than two min­utes long. A pro­fes­sional video edi­tor told me last week that we needed to edit an upcom­ing project to less than 90 sec­onds to ensure that we grab view­ers' attention!
Do we need to think out­side the box or is the box the thing that needs to be fixed? To suc­ceed in the twenty-first cen­tury econ­omy, stu­dents must learn to ana­lyze and solve prob­lems, col­lab­o­rate, per­se­vere, take cal­cu­lated risks and learn from fail­ure. Can we achieve this by hav­ing our kids watch Bar­ney DVDs by them­selves all day long? I seri­ously doubt it.
A few weeks ago, a school admin­is­tra­tor tried to block Google's chat fea­ture, but his sev­enth grade stu­dents sim­ply shared a new Google Doc­u­ment amongst them­selves and used the side­bar chat to talk with each other. I am sure the admin­is­tra­tor wasn't happy, but I hope he under­stood that the answer is not pre­vent­ing access, but using the cur­rent tools in more effi­cient ways. Imag­ine, for exam­ple, if that "workaround" Google Doc was this arti­cle and the sev­enth grade stu­dents could offer their feed­back, and tell us how would they like to learn what we are try­ing to teach them.
Learn­ing in most con­ven­tional edu­ca­tion set­tings is a pas­sive expe­ri­ence: The instruc­tor talks, the stu­dents lis­ten. But at the most inno­v­a­tive schools, classes are "hands-on," and stu­dents are cre­ators, not mere infor­ma­tion consumers.
One of my con­sult­ing clients recently men­tioned that his archi­tec­ture mag­a­zine, which has been around for 30-plus years, was com­ing to an end due to poor sales. I sug­gested switch­ing to a dig­i­tal ver­sion, which could dra­mat­i­cally lower costs and poten­tially reach a lot more peo­ple. His answer? "I don't know how to do that." My reply: "Ask your stu­dents! You have face to face con­tact with hun­dreds of archi­tec­ture stu­dents every year, sim­ply ask them what kind of con­tent they would like to con­sume, what kind of arti­cles, videos, and pho­tos they pre­fer. Once you under­stand what they want, hire some­one else to do it under your expert supervision."
By ana­lyz­ing the way we respond to news, movies, images, and TV shows, Face­book, Google, and other data-mining com­pa­nies will be able to fore­cast fash­ion trends, box office hits, and viral sen­sa­tions. Why can't we apply the same prin­ci­ples to education?
My five cents. What's your take? Please share it below.
Click here to see all the new updates
UPDATE: 0512 "Har­vard Busi­ness School For The Face­book Age." Stu­dents are work­ing in "hives," new cir­cu­lar, col­lab­o­ra­tive work­spaces, which are part of a rad­i­cal rethink of the sto­ried school's estab­lished cur­ricu­lum, its ped­a­gogy, stu­dent pro­files, and out­comes, to its brand iden­tity and phys­i­cal spaces.
UPDATE: 0520 The Fed­er­a­tion of Amer­i­can Sci­en­tists reported that stu­dents only recall 10% of what they read and 20% of what they hear. If visual accom­pany an oral pre­sen­ta­tion, reten­tion rises to 30%. But if they do the job them­selves, even if only as a sim­u­la­tion, stu­dents can remem­ber 90%.
UPDATE: 0521 NMC Hori­zon Project 2012 K-12 Edi­tion. "The abun­dance of resources and rela­tion­ships made eas­ily acces­si­ble via the Inter­net is increas­ingly chal­leng­ing us to revisit our roles as edu­ca­tors. Insti­tu­tions must con­sider the unique value that each adds to a world in which infor­ma­tion is every­where. In such a world, sense-making and the abil­ity to assess the cred­i­bil­ity of infor­ma­tion are para­mount. Men­tor­ing and prepar­ing stu­dents for the world in which they will live is again at the fore­front. K-12 insti­tu­tions have always been seen as crit­i­cal paths to edu­ca­tional cre­den­tial­ing, but chal­lenges from com­pet­ing sources are
redefin­ing what these paths can look like." The report is avail­able here.
UPDATE: 0522 I had no idea Bill Gates was such a great speaker! Here he talks about state bud­gets which are "rid­dled with account­ing tricks that dis­guise the true cost of health care and pen­sions and weighted with wors­en­ing deficits — with the financ­ing of edu­ca­tion at the los­ing end." Fantastic.
UPDATE: 0527 Explor­ing the poten­tial of book pub­lish­ing in dig­i­tal for­mats by IDEO. "What hap­pens when the read­ing expe­ri­ence catches up with new tech­nolo­gies?"
UPDATE: 0709 "10 jobs that didn't exist 10 years ago", and "The free­lance surge is the indus­trial rev­o­lu­tion of our time."
UPDATE: 0727 Small Busi­ness Own­ers Look Far and Wide for Tal­ent. Wall Street Jour­nal. "Small busi­ness own­ers say they've had to go to great lengths to fill vacan­cies, includ­ing offer­ing on-the-job train­ing to can­di­dates who might not oth­er­wise be a good fit. Blame it on the so-called skills gap."
UPDATE: 0801 Achiev­ing More for Less in U.S. Edu­ca­tion with a Value-Based Approach. "All spend­ing is not cre­ated equal: How a school sys­tem spends its dol­lars is just as impor­tant as—perhaps even more impor­tant than—how much it spends." And also "Con­sider two U.S. stu­dents in 1994—one enter­ing kinder­garten and one grad­u­at­ing from high school. On aver­age, an addi­tional $25,000 was spent on the kinder­gartener over the 13 years (from 1994 through 2007), yet she achieved the same test scores as the 1994 senior." Excel­lent article.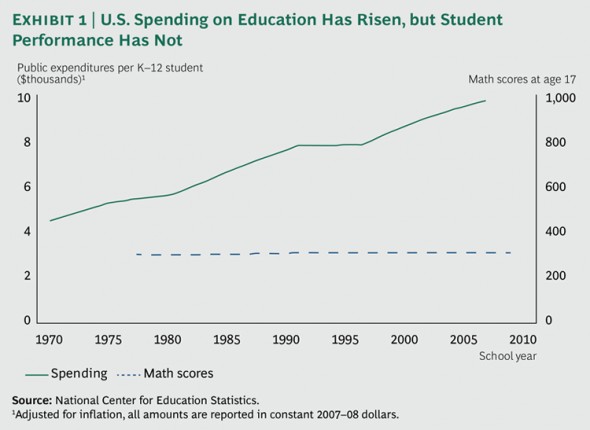 UPDATE: 0903 This TED talk by Stan­ford pro­fes­sor Daphne Koller is very rel­e­vant to our efforts. In Feb­ru­ary of this year Koller launched "Cours­era," a free online edu­ca­tion plat­form. Six months later they are serv­ing 640,000 stu­dents from 190 coun­tries. Her main point is that to reach the masses, online learn­ing plat­forms have to pro­vide more than just video lectures.
UPDATE: 1004 Great arti­cle com­posed by hun­dreds of Tweets answer­ing a "sim­ple" ques­tion: "What's One Thing You Wish You Had Learned in School?"
UPDATE: 1009 wow.…Drugs that nor­mally are used to increase focus are used in some cases sim­ply to improve strug­gling low-income stu­dents' aca­d­e­mic per­for­mance at school.
UPDATE: 1019 "At Microsoft, we have more than 6,000 open jobs in the U.S. Some 3,400 of the posi­tions are for engi­neers. Schools aren't pro­duc­ing grad­u­ates with the skills needed in the mar­ket­place."