Video
Shooting the Black Swan.
 
How was the film Black Swan shot? How did the film­mak­ers deal with all the mir­rors? How many lights did they use and what kind? Those were my thoughts while watch­ing Natalie Portman's remark­able per­for­mance. Here, I have com­piled the most inter­est­ing tech­ni­cal aspects of the movie, gath­ered from sev­eral arti­cles and forums, includ­ing a great inter­view by Amer­i­can Cinematographer's Stephen Pizzello with the Direc­tor of Pho­tog­ra­phy Matthew Libatique. 
Mir­rors
Regard­ing the mir­rors and avoid­ing cam­era reflec­tions, which is the real rea­son why I did some seri­ous  research on this movie, Liba­tique says "we did as much as we could prac­ti­cally, but we knew there would be moments when we wanted to cre­ate seem­ingly unachiev­able shots, and for those we just removed the reflec­tions dig­i­tally with the help of Dan Schrecker, our visual-effects super­vi­sor at Look Effects. A good exam­ple of Look's work is the scene where Nina is rehears­ing in front of a mir­ror, the lights go out, and her reflec­tion starts mov­ing inde­pen­dently; the cam­era was right where you see the reflec­tion, but Dar­ren wanted to get tight eye lines, so we had to paint our­selves out in post. For other scenes, it was eas­ier to just hide the cam­era or shoot from angles where you couldn't see it. We also used one-way mir­rors to get a shot where we cre­ated an 'infin­ity reflec­tion' of Nina sit­ting in front of a dressing-room mir­ror. We posi­tioned Natalie between two one-way mir­rors and just shot from behind them. We wanted the film's hor­ror beats to be a bit more stylistic."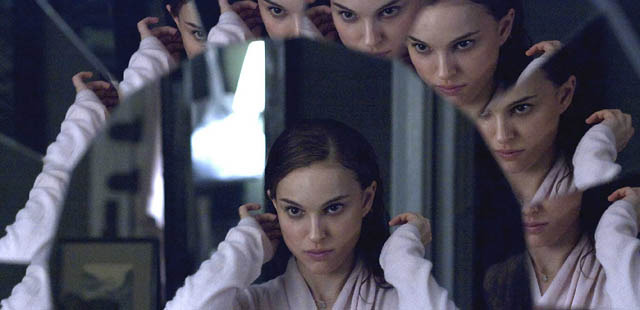 Light­ing
The main light­ing source was "a strip above the dancers' heads. We had about eight rows of 1K cin­ema globes run­ning 60 feet across the stage. We just used dif­fer­ent gels and put the lights on dif­fer­ent chan­nels; we'd go from a green gel to white to magenta, and we also started to mix them, which was nice. It was less com­pli­cated than using mov­ing lights. For one sequence, we com­bined a moon back­drop with a rain effect that we cre­ated by fill­ing a pool of water with bro­ken glass and plac­ing it at the base of the back­ground. We just pow­ered Source Fours into the pool and mod­u­lated the water move­ment with fans."
Cam­eras
"The movie was a single-camera shoot except for maybe one day, and our main cam­era was an Arri 416, which we used with Arri Ultra Prime 16 lenses. We used a Canon 7D or 1D Mark IV for all the sub­way scenes; I could just carry a 7D and shoot on the sub­way all day with a very small crew. I did some tests with my wife before­hand to fig­ure out my ASA, my stop, and how I was going to deal with the focus. I didn't use any rigs with it because I wasn't try­ing to shoot in the tra­di­tional way. I tested a bunch of dif­fer­ent expo­sures and then brought the footage to Char­lie Hertzfeld at Tech­ni­color, who put it in the sys­tem so I could look at the high­lights, the moiré and the res­o­lu­tion. Then I went back to the draw­ing board to do more tests. The 7D has more depth of field than the 5D, but I needed that because I didn't have a follow-focus unit and needed to work really fast. I shot every­thing documentary-style. I did all the focus pulls by hand, and we'd just look at it on the camera's mon­i­tor. I ended up shoot­ing on a Canon 24mm lens at 1,600 ASA to get as much depth of field as pos­si­ble at a stop of T81?2."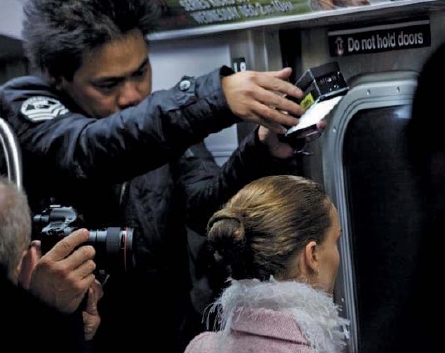 Cam­era Movement
Every per­for­mance was cov­ered in long mas­ter shots, which "we just aug­mented with other moves as nec­es­sary. To Natalie's credit, we rarely did more takes for her; if we required addi­tional takes, it was usu­ally for us. We knew we'd be shoot­ing her from the chest up most of the time, but we knew we'd be in great shape, performance-wise, as long as we could see her face and arms. For wider shots, we could just use her dance dou­ble. We did almost every­thing hand­held." The only Steadicam shot is at the cli­max of the final dance num­ber. Unreal.