Video
Frame Rates and Shutter Speed. Quick tip.
 
In still pho­tog­ra­phy we have three set­tings to con­trol expo­sure: ISO, aper­ture, and shut­ter speed. When shoot­ing HDSLR video, the shut­ter speed is pretty much locked. We only have ISO, which is lim­ited, and aper­ture, which we want to use as a tech­ni­cal AND as a cre­ative tool. For this post, let's con­cen­trate on shut­ter speed.
Is there an ideal shut­ter speed to use?
The answer is yes, there is. Unless you are try­ing to shoot high-speed, or slow motion, a good rule of thumb is 2x the frame rate. So for exam­ple, if you are shoot­ing at 30fps video, set your shut­ter speed at 1/60th of a sec­ond. When it comes to shut­ter speed, we basi­cally set it, and for­get it.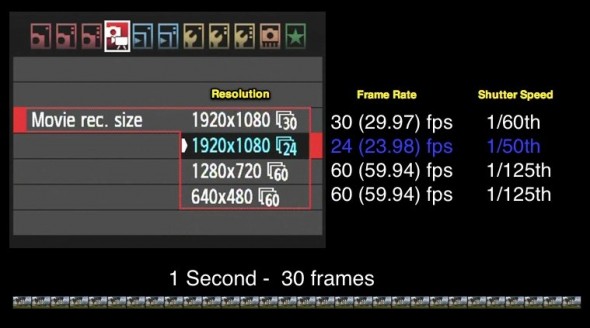 Faster shut­ter speeds make for bet­ter frame grabs, but also make the video more choppy.  This video is one of the best visual expla­na­tions I've come across for both con­cepts. Remem­ber that expo­sure is extremely crit­i­cal in dig­i­tal cin­ema, we don't have the RAW lat­i­tude we enjoy in still photography.