Video
A filmmaker's perspective on Japan.
Back in 2011 I made the best deci­sion of my life: to get engaged. Want­ing to "pop the ques­tion" at an unfor­get­table loca­tion, I asked my wife, then girl­friend, to write down her top five des­ti­na­tions that she had not yet vis­ited. Coin­ci­den­tally, and even though we both have trav­eled exten­sively, her first pick matched mine: Japan. The deci­sion was made, air tick­ets were pur­chased, and hotels booked, but the tim­ing was off. Just a few days before our depar­ture, and with the ring well hid­den in my cam­era bag, the Tohoku earth­quake hit Japan. It was the fourth most pow­er­ful earth­quake in the world since mod­ern record keep­ing began in 1900, and the most pow­er­ful earth­quake ever recorded in Japan.
A few weeks ago we FINALLY had the chance to visit this incred­i­ble coun­try and cul­ture, and on this arti­cle I'd like to share some of the most amaz­ing things we learned and saw. Like some of my pre­vi­ous videos there's a gen­er­ous mix of stills, videos, sound­scapes, music and narrations.
First things first
Most of us learned in school that Japan closed its bor­ders in 1639 for more than 200 years, keep­ing only one sea­port open for for­eign trade exclu­sively with Dutch and Chi­nese sailors. A lot has changed, of course, and the coun­try is cur­rently the world's third largest econ­omy after the United States and China. This is truly a mir­a­cle for a nation that con­sists of more than 6,800 islands, has a pop­u­la­tion of 127 mil­lion peo­ple, and is smaller than the states of Mon­tana or California.
As a lit­tle kid I spent count­less hours por­ing over my grand­par­ents National Geo­graphic mag­a­zines. I dreamt about far and exotic places like "Antofa­gasta," which I related to can­ni­bals, "Ushuaia," which to me was a syn­onym for the end of the world, "Oax­aca," which I imag­ined full of lit­tle skulls every­where, "Mar­rakesh," with stun­ning belly dancers and crazy sword-fighting war­riors, and "Kyoto," ele­gant, peace­ful, and extremely expen­sive. I loved the sound of each place.
Now, a "few" years later, I've had the priv­i­lege to visit all of these mag­i­cal places and work in well over 700 cities in 50 coun­tries, cov­er­ing 40% of the world (accord­ing to Tri­pad­vi­sor). Com­pared to my child­hood pipe dreams, some coun­tries have been much more inter­est­ing (Hong Kong and Thai­land), and a few hugely dis­ap­point­ing (Rus­sia and Viet­nam top that list). There are no can­ni­bals in Antofa­gasta, you can see lit­tle skulls in Oax­aca for "Dia de los Muer­tos," and Ushuaia can't be described in words. But Japan, in fact, so far, has been the one expe­ri­ence to clos­est match my dreams.
A World of Contrasts
If I had to define the coun­try in a sin­gle word it would be con­trast. Not nec­es­sar­ily as in the wide social and eco­nomic dis­par­i­ties one sees in India, China, or South Amer­ica, but in the every­day cul­ture itself; super-modern build­ings next to archi­tec­tural crimes, deca­dent meals fol­lowed by ined­i­ble dishes, mas­sive pedes­trian cross­ings and jam-packed sub­way cars fol­lowed by serene gar­dens, and very polite and quiet peo­ple dur­ing the day­time that get insanely wild and loud after dusk.
Ran­dom Fun Facts
Com­ing from New York, it always strikes me how clean and quiet other large cities are in com­par­i­son. Even Los Ange­les and Hous­ton seem muted in com­par­i­son. In that regard, Tokyo, the most pop­u­lated met­ro­pol­i­tan area in the world, is impos­si­bly silent. And spot­less. And huge. For exam­ple, Tokyo doesn't have an actual down­town, but 23 of them, some with a day­time pop­u­la­tion seven times higher than their night­time population.
Hav­ing been born in Colom­bia and expe­ri­enc­ing first hand the country's well doc­u­mented vio­lence dur­ing the 90s, it is hard to grasp how Japan, with the tenth largest pop­u­la­tion in the world can have the sec­ond low­est homi­cide rate, with only TWO gun-related homi­cides per year, and a con­vic­tion rate close to 99%. My brain can't even process that information.
There are many fas­ci­nat­ing things about Japan, from the expected, like mag­nif­i­cent tem­ples, pris­tine gar­dens, and stun­ning pack­age and light­ing design, to the highly unex­pected like the super-salty cui­sine, and the lack of Eng­lish speak­ing peo­ple and infor­ma­tion in Eng­lish even in pop­u­lar tourist areas. Regard­ing tourism, we based most of our itin­er­aries on Frommer's and Fodor's guides, which proved to be excel­lent sources of information.
We also tried to under­stand why there are vir­tu­ally no pub­lic trash cans, but no garbage on the streets, mil­lions of peo­ple every­where, but no benches, and restau­rants with vend­ing machines, but no nap­kins. I'm still look­ing for those answers. Please hit me on Twit­ter if you have a good guess. And, speak­ing of Japan­ese vend­ing machines, one can use any of the 5.5 mil­lion to buy beer, wine, canned cof­fee, cig­a­rettes, food, comic books, toi­let paper and even "adult lit­er­a­ture and plea­sure products."
To widen our Japan­ese expe­ri­ence, we stayed at a high-end hotel in Tokyo, and at a Ryokan in Kyoto. The Ryokan, a tra­di­tional Japan­ese inn with tatami floors, paper blinds, a low table for tea and super tiny pil­lows, pro­vided a unique, but not very com­fort­able, expe­ri­ence. As an added bonus we located a Ryokan that offered a pri­vate Onsen, or spring bath, that was mas­ter­fully built with exquis­ite wood, and har­vested the local vol­canic waters. Of course, Japan being Japan, even this relax­ing moment had many strict rules to be fol­lowed in pre­cise order before even touch­ing the water. Over­all it was an inter­est­ing expe­ri­ence, espe­cially after walk­ing 30,000 steps each day (accord­ing to my wife's pretty handy Fit­bit).
One early morn­ing we got the rare oppor­tu­nity to attend sumo train­ing. As archi­tec­ture buffs we used some rainy after­noons to visit build­ings and stores  by our favorite Japan­ese design­ers. We tried hard to cover as much of the Japan­ese culi­nary spec­trum as pos­si­ble, from quick lunches at shop­ping cen­ters' base­ments, vend­ing machines, and food trucks, and din­ning at tra­di­tional Iza­kayas where we tried deli­cious Yak­i­tori and horse sashimi.
We obvi­ously "had" to fit in a few Michelin-rated restau­rants as the respected "food­ies" pub­li­ca­tion has awarded Tokyo the most stars of any city in the world. More than the food itself, the ser­vice, pre­sen­ta­tion, and atten­tion to detail are what truly offers a remark­able experience.
More Ran­dom Facts
Japan imports 85% of Jamaica's annual cof­fee pro­duc­tion, but the fancy cof­fees we tried were con­sis­tently incon­sis­tent. I might get shot for say­ing this, but the $1 cof­fee at 7-Eleven was MUCH bet­ter than most of the $8 fancy brews we tried. And I'm Colom­bian, I do know my coffee.
Japan is also the world's top importer of reg­gae music and has the largest pro­por­tion of jazz fans in the world. We treated our­selves with a jazz con­cert (and grossly over­priced drinks) at the Park Hyatt's bar, from "Lost in Trans­la­tion" fame. The city views from the fancy bar are great, espe­cially at night­time, but you get pretty much the same view for free only two blocks away, from Tokyo's Met­ro­pol­i­tan Gov­ern­ment Build­ing, where you can also get a very fill­ing lunch for about six dollars.
Gulp­ing down your drink and slurp­ing is NOT con­sid­ered bad man­ners (mom, are you read­ing this?), but some­how eat­ing or drink­ing while walk­ing down a street is con­sid­ered very rude and nobody does it. The Zen proverb "When walk­ing, walk. When eat­ing, eat" is silently but effec­tively enforced all the time, and every­where. One day we had to go back to our hotel, just a few blocks away, to fin­ish our Bento box lunch.
We did enjoy bow­ing on meet­ing some­one, but sit­ting on the floor with your hands in your lap and your legs tucked under you, not so much. Per­haps because I'm less flex­i­ble than a tree. When wear­ing my first kimono I cre­ated a small "fash­ion emer­gency" with the Ryokan's owner, as one should always wear the left side over the right side. The oppo­site of this is only observed at funer­als. Some­thing sim­i­lar hap­pens with chop­sticks; do not point them at other peo­ple, never wave them in the air or stick them upright in the rice, since they'll look like sticks of incense at a funeral. How are you sup­posed to know all this?
Cash is def­i­nitely king, and many ATMs in Japan do not accept inter­na­tional debit cards, with the won­der­ful excep­tion of the ATMs found at the 10,000 7-Eleven stores. Coins are required for buses, trams, and lock­ers. We had read that Inter­net access was hor­ri­ble, but I have to dis­agree. Both our hotels, many sub­way sta­tions and bus stops pro­vided free Inter­net access. If all you need is check­ing your map or access some­thing on Drop­box you should be fine. If you are plan­ning to stream movies or video games, stay home.
Pack­ing Tips
In terms of pack­ing, we broke a new per­sonal record for this trip. We were able to fit every­thing into ONE suit­case. In case all the women read­ing this arti­cle are won­der­ing, yes, my wife wasn't too happy at first, but she came to appre­ci­ate my logic while nav­i­gat­ing major trans­port hubs like Shin­juku, which serves 4 mil­lion pas­sen­gers a day, and holds the title as the world's busiest station.
In addi­tion to the sin­gle suit­case, my wife had a very light day­pack, and I brought my favorite photo back­pack. 
Regard­ing photo and video equip­ment, I've been trav­el­ing extremely light and small. This time I brought two Pana­sonic GH4s (Ama­zon • B&H), two Pana­sonic Lumix lenses (Ama­zon • B&H) , and a Fuji X100S (Ama­zon • B&H). This is pretty much the same gear I've used on assign­ments in Europe (arti­cle on Sigma's web­site), Turkey, and com­mer­cials like this.
Some­thing I failed to pack (and strug­gled to find in Tokyo) was a "3-Prong to 2-Prong Adapter." Con­sid­er­ing one can get two for $6 on Ama­zon, it was very painful to waste pre­cious time walk­ing from store to store and try­ing to explain what a "3 prong" means with body lan­guage and child­ish draw­ings. To con­nect mul­ti­ple devices I ALWAYS bring two essen­tial items: a mini power strip to charge phones, bat­ter­ies, and lap­tops using a sin­gle out­let, and a com­pact USB hub, to con­nect mul­ti­ple hard dri­ves to my lap­top. This year I've been using these small and cheap exter­nal hard dri­ves on my trav­els, and so far they've worked per­fectly. If you are inter­ested in see­ing what's inside my cam­era bag, I wrote an arti­cle with "The Essen­tial 41 Items" for pho­tog­ra­phy and video assignments.
The Final Prod­uct — The Video
Shoot­ing stills, and video, and record­ing sound­scapes while trav­el­ing alone is hard, I'm not gonna lie. Doing all that with your (extremely patient) wife is even harder, but totally worth it.
Obvi­ously it's impos­si­ble to under­stand a coun­try, city, or even a neigh­bor­hood in just a cou­ple of weeks. I've spent nine years in New York and every week­end we find some­thing new to do, see, or eat. But, we only have one chance to get a first impres­sion, and I believe those first reac­tions are great ways to iden­tify inter­est­ing trends and cul­tural differences.
The video below has tons of addi­tional infor­ma­tion about Japan in gen­eral and our travel adven­tures in par­tic­u­lar. If you like traveling—and eat­ing deli­cious food—I'm sure you will enjoy it, and if you do, please SHARE the love!
If you are look­ing to expand your cre­ative options by adding video into your skills set or enhance your craft, don't miss these courses on Lynda.com.
Video
How to spend Valentine's Day in Montreal for under $500.
I read some­where that Valentine's Day is the sec­ond most pop­u­lar card-sending hol­i­day after Christ­mas with over 150 mil­lion exchanged in the U.S. alone. I know, totally ran­dom fact, but kinda cool.
Saint Valentine's Day, also known as Valentine's Day or the Feast of Saint Valen­tine falls on Feb­ru­ary 14 each year. Research­ing my travel options for an upcom­ing video project in Mon­treal, I thought "wouldn't be nice to go to Mon­treal, just for a week­end, with­out hav­ing to spend a fortune?"
So I called my friend Este­ban Mahecha who is the most knowl­edge­able per­son I've ever met on any­thing related with travel and fine din­ing. The idea is to spend Valentine's week­end, walk around that won­der­ful city, see some friends, stay some­where com­fort­able, and eat really well, all for under $500 for every­thing. Doable? You bet it is, when you are Este­ban Mahecha. Here are some images I've shot on pre­vi­ous trip to this amaz­ing city.
Here's his com­plete itin­er­ary with actual prices and live links. Keep in mind that we are con­sid­er­ing depart­ing from New York City, so things might change depend­ing where you live.
1. You'll depart on Fri­day Feb­ru­ary 13th. The cheap­est way to get to Mon­treal from New York is fly­ing. You would need a total of 18,000 Avios points plus $110, for (2) peo­ple. So you know, Avios is the reward cur­rency of the British Air­ways Exec­u­tive Club. The fastest and eas­i­est way to rack up Avios in a hurry is via rewards credit cards includ­ing British Air­ways Credit Cards, Chase Sap­phire Pre­ferred (trans­fer part­ner), Amer­i­can Express Mem­ber­ship Rewards Cards (trans­fer part­ner), Star­wood Pre­ferred Guest Amex (trans­fer part­ner). Com­plete info about Avios here.
Cost: $110 for both roundtrip air tick­ets from New York City. We have $370 left.
Tak­ing a train is also a nice alter­na­tive. It takes about 11 hours, but as you already know, it is a won­der­ful expe­ri­ence. The #68 Adiron­dack departs at 8:15 am, and arrives in Mon­treal at 7:15pm. You could eas­ily take the train and have din­ner reser­va­tions for 9pm, but it would cost $286 for both train tick­ets round-trip.
Con­sid­er­ing the com­mute to the air­port (1 hour from your place in Brook­lyn), plus at least 90 min­utes at the air­port before the flight (it will be packed), plus 90 min­utes in the air (for a direct flight) and another hour from the air­port to the hotel you really save about 6 hours by air as opposed to the train, and might add a lot of stress. Delays are also highly likely on Fri­day nights from all New York air­ports. But, to keep our bud­get under $500 we'll choose to fly.
2. Taxi rates are fixed at $40 from the Montreal's air­port to down­town. There's an express bus (#747) for $10 that will take you to down­town in roughly 45 min­utes to an hour, depend­ing on traf­fic. The bus fare gives you a 24h pass good for the métro (sub­way) and on-island busses run by the STM, Montéal's tran­sit author­ity, so by tak­ing the bus you save $20 and have sub­way tick­ets until Sat­ur­day night.
Cost: $20 for both express buses from the air­port to the hotel. We have $350 left.
3. The hotel, typ­i­cally the most expen­sive aspect for most peo­ple can be had for only $190 includ­ing taxes, for two nights at a highly-rated 3-star hotel right in the heart of Montreal's His­toric City Cen­ter. Cost: $190 (includ­ing taxes). We have $160 left.
4. Now, you want to eat at a cou­ple of nice places, some­thing much eas­ier to achieve in Mon­treal than New York. You can get brunch or an excel­lent sand­wich for around $25 for two with­out alco­hol. With Sat­ur­day and Sun­day lunch/brunch we have $112 left.
For your fancy din­ners I'd recommend:
Fri­day Night: Restau­rant L'Express. Din­ner for two $60.
A 32-year-old insti­tu­tion in the fash­ion­able Plateau neigh­bour­hood, is a proper French bistro, run by a chef from Toulouse and a remark­ably enlight­ened owner who still writes the menus with a foun­tain pen. It is French bistro cook­ing: superb calf's liver seared hard to medium rare, with good frites and house-made mayo; fish soup stirred with gar­licky aioli and crumbly cheese toasts; aspergesv­inai­grette; pitch-perfect tarte au citron.
Sat­ur­day Night: Au Pied de Cochon. Din­ner for two $70.
Chef Mar­tin Picard's bustling, rus­tic restau­rant, open since 2001, has earned a cult fol­low­ing for its mod­ern­ized, over-the-top (and insanely rich) take on tra­di­tional Que­be­cois food. There's a gonzo edge to the hall­mark dishes here: stuffed pied de cochon (pig's foot) the size of a fore­arm, duck poached in a can (and opened at the table) and foie gras–topped pou­tine (the sig­na­ture Québé­cois dish of French fries and cheese curds smoth­ered in gravy). A lesser-known high­light: Picard sources seafood from East­ern Que­bec and the Cana­dian Mar­itimes from late spring through early fall, trans­form­ing his place into one of the city's finest fish restaurants.
5. With both din­ners we are down $20. You will need another $20 for the express bus back to the air­port, so we are down a $40 for the whole trip.
Sorry I couldn't do it for under $500, but $540 for the com­plete trip it's not too bad!
Photography
My Asia • eBook (iPad version)
There are tourists and there are trav­el­ers. The tourists are afraid of the unknown, the dif­fer­ent. You see them eat­ing at Sub­way or McDonald's right next to the local food mar­ket. Trav­el­ers adapt to local cus­toms, eat what the locals eat, enjoy try­ing new things, push their bound­aries, embrace feel­ing uncom­fort­able, and have a blast get­ting lost.
"This mag­i­cal book is a true traveler's photo jour­nal in South East Asia." The Arm­chair Traveler.
Click here to pur­chase My Asia • Photo eBook (iPad)now.
The PDF ver­sion is avail­able here, and the printed ver­sion from Blurb is here.
Photography
Discovering Cirque du Soleil Las Vegas: Visual Serendipity.
 
I recently met two acro­bats from one of the eight shows in Cirque du Soleil Las Vegas. A multi­na­tional spec­ta­cle, Cirque du Soleil uses the imag­i­na­tion, arts and cre­ative tal­ent to present a show like no other. (more…)
Video
Maps and the end of distance.
 
Maps are hot. Or that's what it seems, since Apple is ditch­ing Google Maps soft­ware on its lat­est iOS 6 and bring­ing turn-by-turn direc­tions, 3D fly­over, local search, Siri inte­gra­tion and more to iPhone and iPad users some­time this fall on their own Maps app.
Google, never the shy one, release an update to Google Maps with amaz­ing 3D fly-over tech­nol­ogy, bik­ing and walk­ing direc­tions (I use both all the time), indoor maps, live traf­fic, and pub­lic trans­porta­tion (includ­ing sched­ules!). The best new fea­ture? Offline Maps: users can see and inter­act with the maps, even if with­out inter­net con­nec­tion. All devices run­ning Android OS 2.2 and above will be supported.
It is amaz­ing that in cities like New York or Los Ange­les dis­tances deter­mine where we live and work, on which activ­i­ties we engage, the areas we dis­cover and even our dat­ing pat­terns. Due to the good pub­lic trans­porta­tion in the Nether­lands dis­tance has become irrel­e­vant. "We can reach almost any des­ti­na­tion by train eas­ily and rel­a­tively quick. In our busy lives we now think in time rather than dis­tance. There­fore the cur­rent maps, as we know them today, are obso­lete. Think­ing in time affects a map and hence the shape of the Nether­lands also depend­ing on the per­spec­tive from which we look."
Maybe one day we will have some­thing like this in the U.S. Or maybe not.
Photography
Visual Serendipity.
 
Serendip­ity: noun; the occur­rence and devel­op­ment of events by chance in a happy or ben­e­fi­cial way.
"Chi­na­town at Dusk" is the sec­ond pic­ture on our "Visual Serendip­ity" weekly series. The goal is to post a new cell phone image every week (click here to see last week's pic).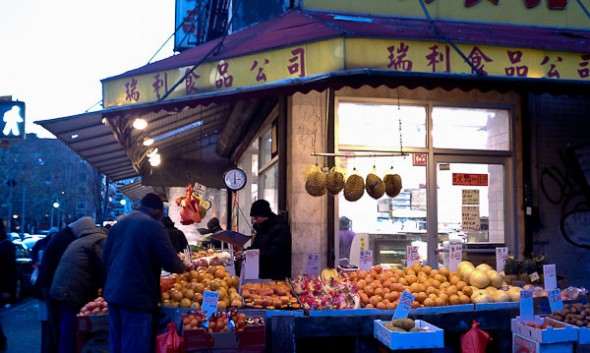 For years I've been fas­ci­nated with Chi­na­town. So many things going on, so many col­ors, smells, and sounds at a some­what iso­lated place in the hearts of very dense cities like New York, Chicago or San Fran­cisco. What intrigues me the most about eth­nic neigh­bor­hoods like Chi­na­town is to walk into a cor­ner store (how do you say "bodega" in Chi­nese?), and see things that I can't tell if are veg­eta­bles, ani­mals, med­i­cine, food, toys or decorations.
An added bonus the restau­rants which are amaz­ingly good and cheap! One of my favorite spots is Vanessa's Dumpling House, what's yours?
Video
Around Europe in 3 minutes.
 
Three weeks trav­el­ing in Europe, frozen into 270 images, and com­pressed into 3 min­utes. Fan­tas­tic music by Astor Piaz­zolla. Some of the cities vis­ited: Berlin, Milan, Gar­gag­nago, Verona, Venice, Frank­furt, Cologne.
Euro­pean Jour­ney. from Eduardo Angel on Vimeo.