Video
How to spend Valentine's Day in Montreal for under $500.
I read some­where that Valentine's Day is the sec­ond most pop­u­lar card-sending hol­i­day after Christ­mas with over 150 mil­lion exchanged in the U.S. alone. I know, totally ran­dom fact, but kinda cool.
Saint Valentine's Day, also known as Valentine's Day or the Feast of Saint Valen­tine falls on Feb­ru­ary 14 each year. Research­ing my travel options for an upcom­ing video project in Mon­treal, I thought "wouldn't be nice to go to Mon­treal, just for a week­end, with­out hav­ing to spend a fortune?"
So I called my friend Este­ban Mahecha who is the most knowl­edge­able per­son I've ever met on any­thing related with travel and fine din­ing. The idea is to spend Valentine's week­end, walk around that won­der­ful city, see some friends, stay some­where com­fort­able, and eat really well, all for under $500 for every­thing. Doable? You bet it is, when you are Este­ban Mahecha. Here are some images I've shot on pre­vi­ous trip to this amaz­ing city.
Here's his com­plete itin­er­ary with actual prices and live links. Keep in mind that we are con­sid­er­ing depart­ing from New York City, so things might change depend­ing where you live.
1. You'll depart on Fri­day Feb­ru­ary 13th. The cheap­est way to get to Mon­treal from New York is fly­ing. You would need a total of 18,000 Avios points plus $110, for (2) peo­ple. So you know, Avios is the reward cur­rency of the British Air­ways Exec­u­tive Club. The fastest and eas­i­est way to rack up Avios in a hurry is via rewards credit cards includ­ing British Air­ways Credit Cards, Chase Sap­phire Pre­ferred (trans­fer part­ner), Amer­i­can Express Mem­ber­ship Rewards Cards (trans­fer part­ner), Star­wood Pre­ferred Guest Amex (trans­fer part­ner). Com­plete info about Avios here.
Cost: $110 for both roundtrip air tick­ets from New York City. We have $370 left.
Tak­ing a train is also a nice alter­na­tive. It takes about 11 hours, but as you already know, it is a won­der­ful expe­ri­ence. The #68 Adiron­dack departs at 8:15 am, and arrives in Mon­treal at 7:15pm. You could eas­ily take the train and have din­ner reser­va­tions for 9pm, but it would cost $286 for both train tick­ets round-trip.
Con­sid­er­ing the com­mute to the air­port (1 hour from your place in Brook­lyn), plus at least 90 min­utes at the air­port before the flight (it will be packed), plus 90 min­utes in the air (for a direct flight) and another hour from the air­port to the hotel you really save about 6 hours by air as opposed to the train, and might add a lot of stress. Delays are also highly likely on Fri­day nights from all New York air­ports. But, to keep our bud­get under $500 we'll choose to fly.
2. Taxi rates are fixed at $40 from the Montreal's air­port to down­town. There's an express bus (#747) for $10 that will take you to down­town in roughly 45 min­utes to an hour, depend­ing on traf­fic. The bus fare gives you a 24h pass good for the métro (sub­way) and on-island busses run by the STM, Montéal's tran­sit author­ity, so by tak­ing the bus you save $20 and have sub­way tick­ets until Sat­ur­day night.
Cost: $20 for both express buses from the air­port to the hotel. We have $350 left.
3. The hotel, typ­i­cally the most expen­sive aspect for most peo­ple can be had for only $190 includ­ing taxes, for two nights at a highly-rated 3-star hotel right in the heart of Montreal's His­toric City Cen­ter. Cost: $190 (includ­ing taxes). We have $160 left.
4. Now, you want to eat at a cou­ple of nice places, some­thing much eas­ier to achieve in Mon­treal than New York. You can get brunch or an excel­lent sand­wich for around $25 for two with­out alco­hol. With Sat­ur­day and Sun­day lunch/brunch we have $112 left.
For your fancy din­ners I'd recommend:
Fri­day Night: Restau­rant L'Express. Din­ner for two $60.
A 32-year-old insti­tu­tion in the fash­ion­able Plateau neigh­bour­hood, is a proper French bistro, run by a chef from Toulouse and a remark­ably enlight­ened owner who still writes the menus with a foun­tain pen. It is French bistro cook­ing: superb calf's liver seared hard to medium rare, with good frites and house-made mayo; fish soup stirred with gar­licky aioli and crumbly cheese toasts; aspergesv­inai­grette; pitch-perfect tarte au citron.
Sat­ur­day Night: Au Pied de Cochon. Din­ner for two $70.
Chef Mar­tin Picard's bustling, rus­tic restau­rant, open since 2001, has earned a cult fol­low­ing for its mod­ern­ized, over-the-top (and insanely rich) take on tra­di­tional Que­be­cois food. There's a gonzo edge to the hall­mark dishes here: stuffed pied de cochon (pig's foot) the size of a fore­arm, duck poached in a can (and opened at the table) and foie gras–topped pou­tine (the sig­na­ture Québé­cois dish of French fries and cheese curds smoth­ered in gravy). A lesser-known high­light: Picard sources seafood from East­ern Que­bec and the Cana­dian Mar­itimes from late spring through early fall, trans­form­ing his place into one of the city's finest fish restaurants.
5. With both din­ners we are down $20. You will need another $20 for the express bus back to the air­port, so we are down a $40 for the whole trip.
Sorry I couldn't do it for under $500, but $540 for the com­plete trip it's not too bad!
Photography
My Asia • eBook (iPad version)
There are tourists and there are trav­el­ers. The tourists are afraid of the unknown, the dif­fer­ent. You see them eat­ing at Sub­way or McDonald's right next to the local food mar­ket. Trav­el­ers adapt to local cus­toms, eat what the locals eat, enjoy try­ing new things, push their bound­aries, embrace feel­ing uncom­fort­able, and have a blast get­ting lost.
"This mag­i­cal book is a true traveler's photo jour­nal in South East Asia." The Arm­chair Traveler.
Click here to pur­chase My Asia • Photo eBook (iPad)now.
The PDF ver­sion is avail­able here, and the printed ver­sion from Blurb is here.
Photography
Discovering Cirque du Soleil Las Vegas: Visual Serendipity.
 
I recently met two acro­bats from one of the eight shows in Cirque du Soleil Las Vegas. A multi­na­tional spec­ta­cle, Cirque du Soleil uses the imag­i­na­tion, arts and cre­ative tal­ent to present a show like no other. (more…)
Video
Maps and the end of distance.
 
Maps are hot. Or that's what it seems, since Apple is ditch­ing Google Maps soft­ware on its lat­est iOS 6 and bring­ing turn-by-turn direc­tions, 3D fly­over, local search, Siri inte­gra­tion and more to iPhone and iPad users some­time this fall on their own Maps app.
Google, never the shy one, release an update to Google Maps with amaz­ing 3D fly-over tech­nol­ogy, bik­ing and walk­ing direc­tions (I use both all the time), indoor maps, live traf­fic, and pub­lic trans­porta­tion (includ­ing sched­ules!). The best new fea­ture? Offline Maps: users can see and inter­act with the maps, even if with­out inter­net con­nec­tion. All devices run­ning Android OS 2.2 and above will be supported.
It is amaz­ing that in cities like New York or Los Ange­les dis­tances deter­mine where we live and work, on which activ­i­ties we engage, the areas we dis­cover and even our dat­ing pat­terns. Due to the good pub­lic trans­porta­tion in the Nether­lands dis­tance has become irrel­e­vant. "We can reach almost any des­ti­na­tion by train eas­ily and rel­a­tively quick. In our busy lives we now think in time rather than dis­tance. There­fore the cur­rent maps, as we know them today, are obso­lete. Think­ing in time affects a map and hence the shape of the Nether­lands also depend­ing on the per­spec­tive from which we look."
Maybe one day we will have some­thing like this in the U.S. Or maybe not.
Photography
Visual Serendipity.
 
Serendip­ity: noun; the occur­rence and devel­op­ment of events by chance in a happy or ben­e­fi­cial way.
"Chi­na­town at Dusk" is the sec­ond pic­ture on our "Visual Serendip­ity" weekly series. The goal is to post a new cell phone image every week (click here to see last week's pic).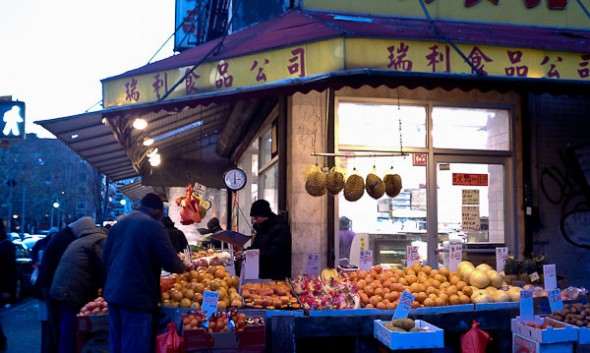 For years I've been fas­ci­nated with Chi­na­town. So many things going on, so many col­ors, smells, and sounds at a some­what iso­lated place in the hearts of very dense cities like New York, Chicago or San Fran­cisco. What intrigues me the most about eth­nic neigh­bor­hoods like Chi­na­town is to walk into a cor­ner store (how do you say "bodega" in Chi­nese?), and see things that I can't tell if are veg­eta­bles, ani­mals, med­i­cine, food, toys or decorations.
An added bonus the restau­rants which are amaz­ingly good and cheap! One of my favorite spots is Vanessa's Dumpling House, what's yours?
Video
Around Europe in 3 minutes.
 
Three weeks trav­el­ing in Europe, frozen into 270 images, and com­pressed into 3 min­utes. Fan­tas­tic music by Astor Piaz­zolla. Some of the cities vis­ited: Berlin, Milan, Gar­gag­nago, Verona, Venice, Frank­furt, Cologne.
Euro­pean Jour­ney. from Eduardo Angel on Vimeo.